Are Men's ring sizes the same as women's?
As you know, men and women wear rings of different sizes. Men's and women's ring styles are not the same. Women's rings are elegant and delicate, while men's rings are rock, rugged and tough.
Men's VS. Women's Ring Size
Men's and women's ring sizes are sort of the same. The size chart is the same for men and women, so the main difference between men's rings and women's rings is not the size of the numbers, but the width of the ring. Women prefer thinner rings, such as 4mm or 6mm wide rings, because their fingers are smaller, and a wide band will appear bulky on women's hands and will be inconvenient in daily activities, while men usually prefer wider rings. A ring with a width of 8mm or 10mm, for example, can be balanced with larger fingers.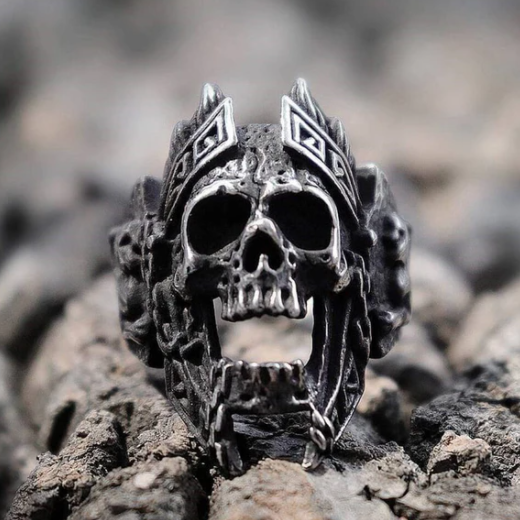 This men's stainless steel ring has a large, demanding presence. Simple in its design, this skull ring has a bold symbolism that lends itself to the most masculine of wearers.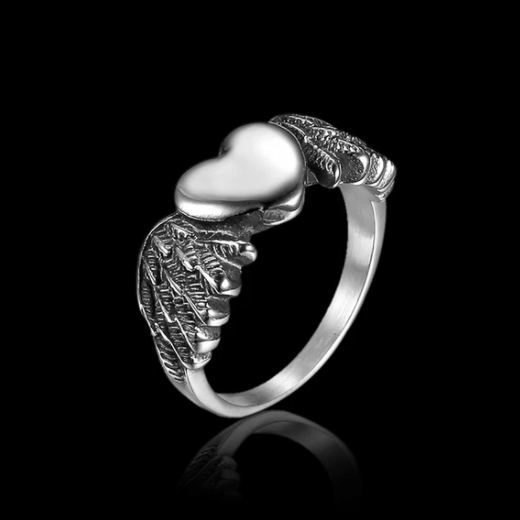 This uniquely shaped ring also has a lovely style, just like love is flying towards you. It is smooth inside, and comfortable to wear. This ring is elegant and delicate, which is very suitable for women's daily wear.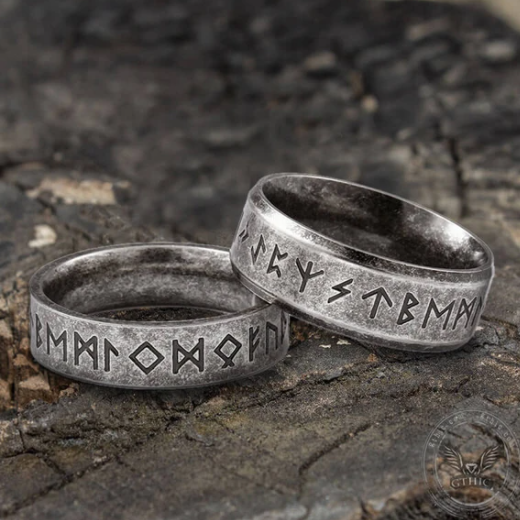 This ring has styles A and style B, 6 mm wide and 8 mm wide respectively, suitable for both men and women. This simple and stylish ring is engraved with Viking runes, which is very suitable for people who like Viking culture.
Common Ring Size
Most men have larger fingers than women, and their knuckles are also larger. Women's hands are small with slender fingers. Men's rings generally range from size 8 to size 14, and the most common and best-selling size for men is 9 to 11. Men with larger hands and fingers usually fit a ring size of 12 or more. For women, the size of the best-selling ring is between size 6 and 8. Some women's ring sizes may be smaller than size 6.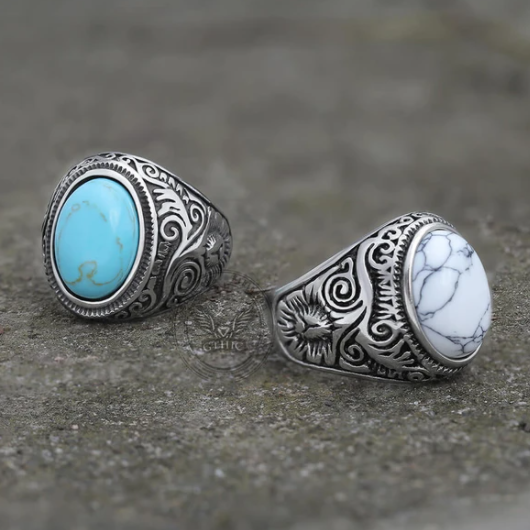 This ring is available in sizes 5-16 and 20, to meet the size needs of men and women. It is a beautiful ring made from stainless steel and stunning turquoise that creates a look that is both elegant and rugged. This ring has four colors to choose from, namely white, blue, brown, and black.
The size range of Gthic rings is generally 7-16 or 7-13. There are also some rings that have smaller and larger sizes. Some of our rings have a maximum size of 20, and the smallest size is generally 5, and many rings have half sizes. International and American ring size tables are based on finger circumference. U.S. dimensions are in inches, and international dimensions are in millimeters. If you are not sure of your suitable ring size, you can measure the circumference of your finger, and then click the size chart on the product details page of our website for reference. Our size chart can easily help you convert among the finger circumference and US size, as well as the UK, European and Australian sizes. In addition, if you buy a ring from our website, you will receive a ring sizer with the package so as to confirm your size.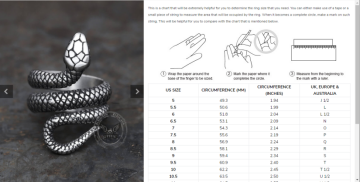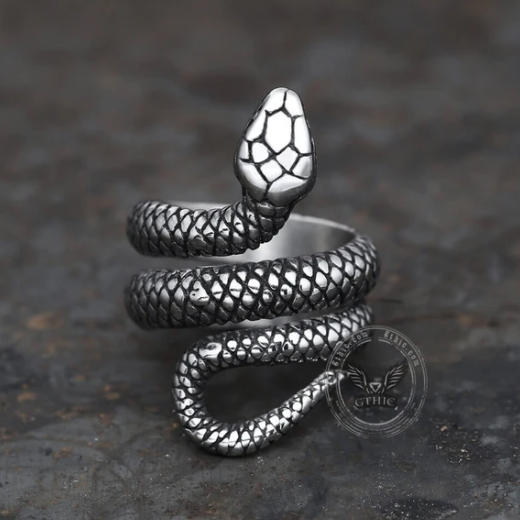 This snake ring is available in sizes from 5 to 15, and both men and women can find a size that suits them. In many cultures, the snake is considered as a spirit animal. It can provide guidance for life change.
Ring Size Tips
If you are stuck between two sizes, we always recommend you to choose the larger size, because it is much easier (and cheaper) to make a smaller ring than expand it.
Some rings in our shop are hollow on the back and some are solid, wearing a hollow ring will feel looser than wearing a solid ring, even if they have the same size.
There is another suggestion-pay attention to the width of the ring band when buying a ring. A wider ring is always tighter than a thin ring. If you usually wear a thin band, it makes sense to increase the size when you want to buy a wider ring. Otherwise, your new ring may be too tight, even if you choose your ring size correctly.
Leave a comment