Top 5 Skull Bracelets For Men to Wear With Different Outfits And Occasions
Skulls have different meanings in different cultures, but they are often associated with death, mortality, and the cycle of life. While some individuals view skull jewelry as a sign to embrace life to the fullest, others perceive it as an emblem of bravery, resilience, or fortitude. Skull bracelets are often worn as a fashion statement, and they can add a bold, edgy, or even rebellious touch to any outfit. Skull bracelets for men are in high popularity among those who wish to express their uniqueness and stand out from the masses. They are available in a variety of materials, colors, and patterns, making them suitable for diverse occasions and attire. Here are top 5 skull bracelets for men to wear with different outfits and occasions.
Leather Skull Bracelet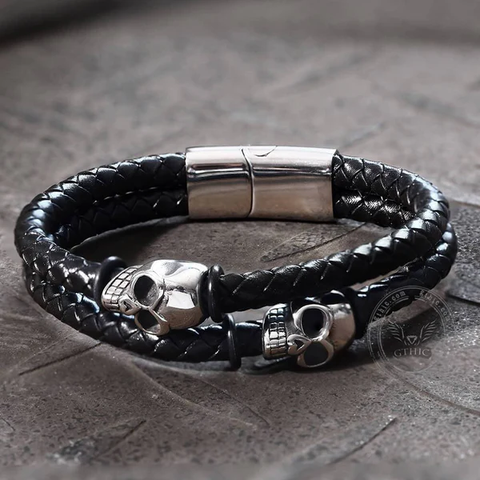 SKULL STAINLESS STEEL LEATHER BRACELET
The leather skull bracelet is a flexible accessory that is suitable for both casual and formal clothing. For a more casual look, pair it with a simple T-shirt and jeans. It adds a touch of edginess to the outfit without being too over-the-top. For a more formal look, wear it with a dress shirt and blazer, or with a suit and dress shoes. In terms of color, brown or black leather is a safe bet as they are neutral colors that can be paired with a variety of outfits. If you're going for a rocker look, pair the bracelet with a skull ring, a leather jacket, ripped jeans, and combat boots. The skull design on the bracelet complements the overall aesthetic.
Beaded Skull Bracelet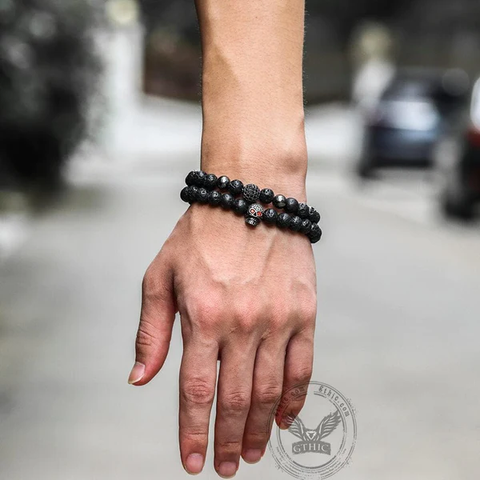 RED EYE SKULL VOLCANIC ROCK BRACELET SET
A beaded skull bracelet is a great option for adding a pop of color and texture to an outfit. Beaded Skull Bracelets are an ideal match for casual outfits, like jeans, T-shirts, and sneakers. They can add a pop of color and texture to your outfit and make a statement without being too over-the-top. If you have a bohemian or hippie style, Beaded Skull Bracelets can complement your outfits perfectly. Pair them with loose-fitting shirts, floral patterns, and sandals for a laid-back and free-spirited look. Beaded Skull Bracelets are also a great accessory for those who love rock and roll fashion. Pair them with a skull necklace, leather jackets, band T-shirts, and black jeans for an edgy and rebellious look.
Stainless Steel Skull Bracelet
VINTAGE SKULL STAINLESS STEEL BRACELET
A stainless steel skull bracelet can be paired with a stylish black shirt, dark jeans, and dress boots for a night out. It adds a touch of sophistication to your outfit, without compromising the edgy and rebellious vibe. If you are going to a party or a club, a bold and eye-catching stainless steel skull bracelet can be paired with your outfit. This can make you stand out and add a touch of rock and roll to your look. A stainless steel men's skull bracelet is also a popular accessory among bikers and motorcycle enthusiasts. It can be paired with leather jackets, denim vests, boots, and jeans, giving off a tough and rebellious vibe.
Silver Skull Bracelet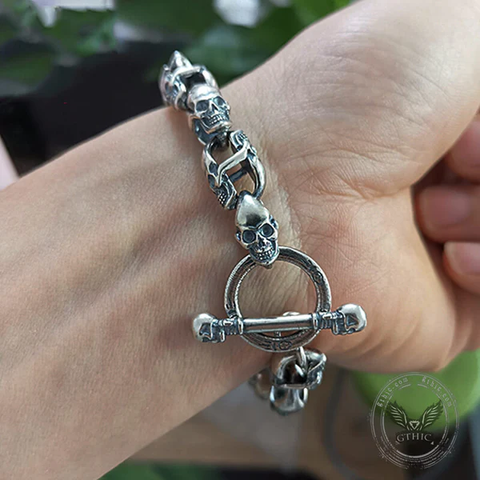 SKULL STERLING SILVER PUNK BRACELET
It's worth noting that a silver skull bracelet might not be appropriate for more formal occasions, such as weddings or business meetings. However, if you're attending a creative or artistic event, it could be a fun addition to your outfit. A silver skull bracelet can add an edgy and stylish look to a man's casual outfit, making it a versatile accessory for events such as concerts, parties, and festivals. The neutral color of silver makes it easy to pair with a variety of outfits, and the durable material can withstand wear and tear. Furthermore, the bracelet's simple application and removal make it a practical accessory for events where men desire to change their appearance frequently throughout the day. A skull silver punk bracelet can be a great addition to a man's wardrobe for casual events.
Rope Skull Bracelet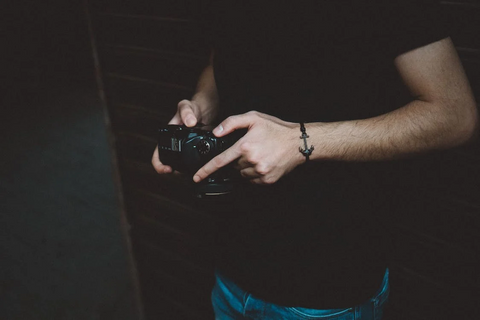 Rope skull bracelets are a staple accessory for music festivals and outdoor concerts. For instance, you could wear a colorful rope skull bracelet with a cropped tank top, high-waisted denim shorts, and ankle boots for a fun and bohemian look. Alternatively, you could wear a black rope skull bracelet with a fringe vest, a floral headband, and cutout booties for a more free-spirited and eclectic vibe. Skull rope bracelets are also perfect for adding some flair to your beach outfits. For example, you could wear a rope red skull bracelet with a striped bikini, a sheer cover-up, and flip-flops for a beachy and casual look.
Conclusion
Skull bracelets can be a great accessory for men to add to their outfits and create a bold and edgy look. When worn with casual outfits, such as jeans and t-shirts, they can add a touch of rock-and-roll style. On the other hand, when paired with more formal attire, such as a suit or blazer, they can create a striking contrast and add a unique twist to the traditional look. Ultimately, wearing a skull bracelet is a personal choice, and it's important to wear it with confidence and style. When paired with the right outfit and occasion, a skull bracelet can be a great way for men to express their individuality and add a touch of edge to their style.
Thank you for reading. If you want to read more articles about skull jewelry, read here. Or you can just read our previous posts here.
Leave a comment